Today I visited my ancestral village for the very first time. Although I was born in India, grew up here, and my life's work brings me back to this very place again and again, I've never managed to make it to the village. Not once. I've even driven past the sign board announcing it a few times. I've observed that it is my ancestral village, and that I should come, but I never have. Not until today.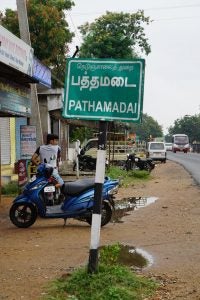 This is the village, deep in beautiful ten-Pandya Nadu, where my maternal grandfather was born and raised. This was where he studied, gaining life-skills that pulled him and his family out of difficult circumstances to forge a better life for all of them. This is where my paternal grandmother studied, where my paternal great-great-grandfather helped run a school. Where my uncles and aunts studied.
This is where the house in which my grandfather was born and lived still stands.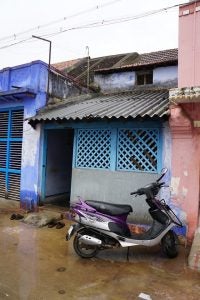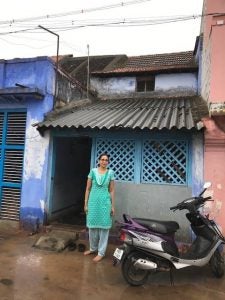 This village is quaint, charming, quiet, lovely. It really is a village–not a town masquerading as a village. The hills rise blue, grey and misty in the deep background. In the foreground, the fields are iridescent green, and birds of all sorts flit and float by, bursts of color against the impossible green. The canal runs cool, swift and clean, beckoning the young boys who hurl themselves with great screeches of joy into its waters. The women and girls bathe on the shores more decorously, but with no less enthusiasm.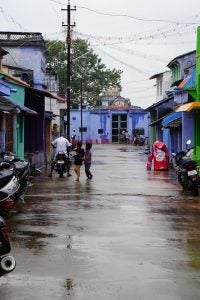 In a land of temples, this village seems thick with them. On either end of the street of my grandfather's house (Mela-Theru) is a Shivan temple and a Perumal temple. Around the corner is a goddess temple, with the beguiling and deceptive name, Anandavalli–creeper of joy. She did look quite thrilled to be spearing the demon. These are old temples, that hold their marks of oldness even beneath the explosion of overenthusiastic tile and renovation.
On a parallel street, called Kila-Theru, are two more temples–utterly gorgeous–again a Shiva temple and Vishnu temple. The Perumal has the impossibly evocative name Kariya-manikka Perumal. The temple walls are covered in inscriptions, and the temple seems virtually untouched. Same with the 13th century Shiva temple–Vilvanathan–covered in inscriptions, and almost untouched since the time of its first renovation in the 13th century, according to an inscription dated 1203 CE (save for the likely addition of the goddess shrine). I am thinking of Leslie Orr…
My trusty driver, Kesavan, observed that for all my temple wanderings around Tirunelveli, did I think that such treasures lurked so close by? No, I did not. But now that I know, I must return, again and again.
When I was in this village, in the rain, in the embrace of the hills and the fields, I understood in a completely new and different way, why I love this land so much. Why this Pandya Nadu calls to me on some primeval level.
There are so many ways to come home, and having lived between lands for so long, every journey is always a homecoming, in whichever direction I go. Now, I have found another way to come home, another place to call home, and yet another way to to find my way in this vast, vast world.