Below are translations of the verses from the Nālāyira Divya Prabandham used in the Praṇaya Kalaka Utsavam at the Nava Tirupati temples, Tirunelveli district. This festival takes place on the final night of the Āḻvār Mokṣam, and describes a quarrel between Viṣṇu and his consorts. At the temple of Alvar Tirunagari, Nammāḻvār reconciles the bickering couple, readying himself for mokṣa and his final ascent to Vaikuṇṭha.
These translations have not been published. They are copyrighted to me. They may NOT be circulated or reproduced in any media (print, web, performed etc.) without explicit, prior, written permission from me (Archana Venkatesan).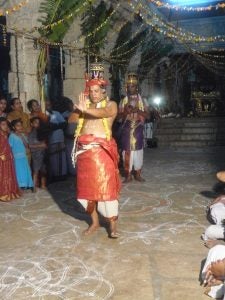 Verse 1: Tirumaṅkai Āḻvār, Periya Tirumoḻi, 10.8.1
 kātil kaṭippu iṭṭu kaliṅkam uṭuttu
tātu nalla taṇ am tuḻāy aṇintu
pōtu maṟuttu puṟamē vantu niṉṟīr
etukku itu eṉṉa itu eṉṉa itu eṉṉō
She says:
Wearing beautiful earrings, a dark garment
adorned with pollen-rich, lovely cool tulasī
you snuck in through the back door. Now you stand here.
What for? What's this? What's this? What indeed is this?
Verse 2: Tirumaṅkai Āḻvār, Periya Tirumoḻi, 10.8.2
 tuvar āṭai uṭuttu oru ceṇṭu ciluppi
kavar āka muṭittu-k- kali-k-kaccu-k- kaṭṭi
cuvar ār kataviṉ puṟamē vantu niṉṟīr
ivar ār itu eṉṉa itu eṉṉa itu eṉṉō
Draped in red garments, tossing a ball
your hair in a careless knot, a turban on your head
You stand on the other side of this half closed door
Who's this? What's this? What's this? What indeed is this?
Verse 3: Kulaśekara Āḻvār Perumāḷ Tirumoḻi 6.
 
miṉṉotta nuṇṇiṭaiyāḷai-k-koṇṭu
vīṅku iruḷvāy eṉtaṉ vītiyūṭē
poṉṉotta āṭai kukkūṭaliṭṭu-p-
pōkiṉṟa pōtu nāṉ kaṇṭu niṉṟēṉ kaṇṇuṟṟavaḷai nī kaṇṇāliṭṭu-k-
kai vilikkiṉṟatum kaṇṭē niṉṟēṉ
eṉṉukku avaḷai viṭṭu iṅku vantāy
iṉṉaṉ aṅkē naṭa nampi niyē
I saw went through the street under cover of darkness
Your arm around the shoulders of a girl with waist as slender as lightning
Both of you sheltered under your shawl of yellow silk
You saw another woman spoke to her with your eyes
made signs with your hands. I saw that too.
Why have left her and come here?
Continue on your way, O lord.
Verse 4: Nammāḻvār Tiruvāymoḻi 6.2.1
miṉ iṭai maṭavārkaḷ niṉ aruḷ
cūṭuvār muṉpu nāṉ atu añcuvaṉ
maṉ uṭai ilaṅkai araṇ kāynta māyavaṉē
uṉṉuṭaiya kuṇṭāyam nāṉ aṟivaṉ iṉi
atu koṇṭu ceyvatu eṉ
eṉṉuṭaiya pantum kaḻalum tantu pōku, nampi
Women with waists thin as lightning wear your grace,
I tremble. O mysterious lord, you scorched the fortress of Lanka's king
I know your tricks, what can you do with that? Return my ball and my anklets,
Go on your way, lord.
Verse 5: Nammāḻvār Tiruvāymoḻi 6.9.3
 jñālattūtē naṭantum niṉṟum kiṭantm iruntum
cāla-p-pala nāḷ ukamtōṟu uyirkaḷ kāppānē
kola-t-tiru mā makaḷōṭu uṉṉai kūṭatē
cāla-p-pala nāḷ aṭiyēṉ iṉṉum taḷarvēṉō
Within this world walking, standing, reclining, just being,
you have protected beings for so many days:
will I not join the lovely, great, auspicious lady and you
will I instead grow weak — for many days too?