Many moons ago, I read Vasudha Narayanan's Vernacular Veda, in which she describes the Mohini Tirukkolam that Alagiya Manavalan of Srirangam dons during the Adhyayanotsavam. The women of Srirangam, she reports, exclaim in delight at the wonder of the gender bending god's ability to exceed Sri herself in glamour and beauty. Since that early reading, I've been utterly fascinated by the Mohini Tirukkolam, and find it popping up in all kinds of contexts, in so many different temples. There's Andal donning it during the Markali Festival (the vertiginous nature of the gender crossing in this case has kept me busy for many years), there are various Vishnu-s in temples across Tamil Nadu who become Mohini for a day. And of course, there's Nammalvar at Alvar Tirunagari. Imagine my surprise when I found Nammalvar dressing up as Mohini not only during the Adhyayanotsavam, but also on the occasion of the Avani Festival at Tirukolur (Day 9).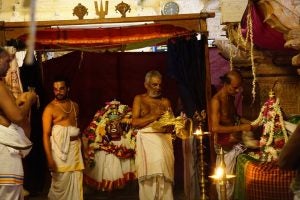 With Mohini on my mind, I went to visit Kalamegha Perumal (how gorgeous and evocative are these names!) at Tirumohur this morning. Tirumohur is where Vishnu is supposed to have manifested as Mohini during the Amrita Madanam, hence the name of the town Tirumohur or Mohanapuram. Alternately, it's where he assumed his Mohini form to get Siva out of his Bhasmasura pickle. There is nary a Mohini sculpture at this temple to acknowledge these sthala puranas, except these two on the temple's 2nd gopuram–one churning of the ocean (North side) and one Mohini (south side).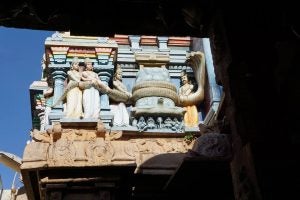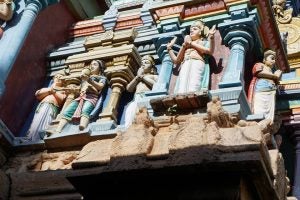 It took me right back to where I started, with Vasudha Narayanan's book that started it all for me. While there were no Mohini-s to be found, there were these two exquisite sculptures of Rati and Kama, glowing gold in the cool dark of the temple interior.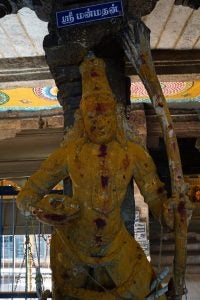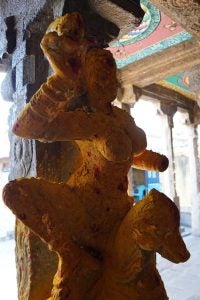 Magical times in Tamil Nadu….