This is Nammalvar territory, so I am not at all surprised to have found many, many Nammalvars carved on pillars and lintels. I've found a great many pairings of Nammalvar and Ramanuja. And I found a lovely, unusual Nammalvar and Madurakavi at the temple in Varagunamangai. So far, this is the first I've found marking a lineal descent from Vishnu to Nammalvar to Ramanuja. An unsubtle Guruparampara located on the outer wall of the Gopuram of the Kaisini Vendan Temple, Tirupuliyangudi Temple, Tirunelveli. Looking forward to the treasures of Perunkulam, Tentiruperai and Tirukolur.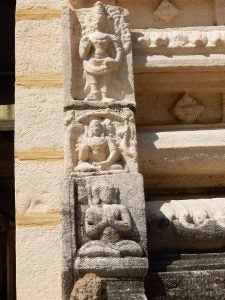 On the same note, here is one of Nammalvar with Madurakavi on one side (R) and Nathamuni on the other (L). He's wearing a tall conical cap (recognizable today as what the Araiyars wear, and if you peer closely enough, he holds the talam in his hands). Located on the lintel, Aravindalocanan Temple, Irattai Tirupati, Tirunelveli.
Lineages are emphasized over and over again here in the Nava Tirupatis. So, I am looking forward to revisiting the paintings at Alvar Tirunagari, ones about which Anna Seastrand has written so well.