Adhyayanotsavam Day 4 (Dec 22)
Text: Perumal Tirumoli
Alankara 1: Cakravarti Tirumakan (Rama)
Alanakra 2: Marica Vadam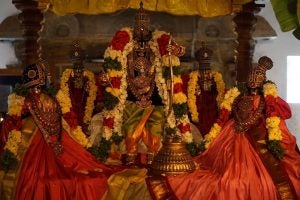 I really love the Perumal Tirumoli–it's such a different text, and Kulasekara Alvar's anubhava is so unusual. Devaki's lament juxtaposed with Kausalya singing a lullaby to Rama, juxtaposed to Dasaratha grieving Rama's loss. The poetry is heartbreaking and painful, terrible grief as terrible beauty.
In keeping with the ongoing dialogue between word and image, both alankaras were of Rama.
The first was Nambi as Rama with his four goddesses. But I couldn't help but imagine the scene as Rama surrounded by his three mothers and Sita.
The second alankara was of the killing of Marica–Rama was transformed from prince into ascetic, with a towering jata. He wielded a delicate, lethal bow and arrow. His arrow pointed outward–not at the sweet little golden deer at his feet–so it could find its mark and embed itself in the hearts of his devotees.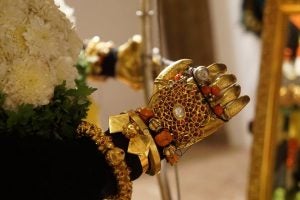 Come. Go. Come. Come, see me just once more
You snapped Siva's bow, made that woman with slender shoulders yours
What wretched fate that you should enter the dense, thick forest
Where wild elephants roam
My son, son who melts my heart
Must you go?
You leave and my heart splits in two
Don't go. Stay.
Kulasekhara Alvar. Perumal Tirumoli. 9.4