Adhyayanotsavam Day 7 (Dec 25)
Text: Periya Tirumoli, 3 and 4th hundreds
Tirukkolam: Govardhana Giridhara and Venugopala
What does it mean to see? What are people seeing when they are in these vast spaces, where god is so distant, and he is but a silhouette of jewels and silks? What *can* one see when you have but a few seconds? I've been thinking about these issues for a while now, since my Srivilliputtur days, when I first became attuned to the poetics of alankara. Yesterday, I brooded on this topic, and I am continuing to brood on it. The priest who adorns the god sees minutely–adjusting this or that, straightening garments, jewels–ensuring that the god presents to the world as he must. He is a translator. Whenever I exclaim at the beauty of the alankara, I am almost invariably told that what emerges through the priest's hands is what god desires in his heart. Every evening, I watch the Jiyar Svamikal walk slowly towards Nambi, pause for several moments as he appears to drink in the image with his eyes. I can't really tell, because I can only see his back–but this is the story I tell myself as I observe this tableau unfold. Then he slowly picks up a fan of peacock feathers and with great patience and infinite grace, waves it, up and down, up and down, cooling the god, so weighed down by responsibility and jewels. I am always entranced by this moment of loving service, which no one seems to want to see. In fact, the women have retreated to press up against the iron bars, and are chatting among themselves about this and that (the topic of the hour yesterday was the mutinous mosquito menace). The men are also gossiping, while several check their phones. The women themselves only see briefly, following the Jiyar and then the men, rushing forward in a great surge of feeling and anxiety. It's a glimpse, an impression, and immediate, visceral enjoyment, not just of the alankara, but the entire lila encapsulated within it. I show the women the photos I've taken–close-ups of the feet and hands, of the jewelry. It's my way of sharing something, of forging a connection, of trying to speak a common language. Some of the women tell me that they never see things so closely, never have the chance, or don't think to absorb all the many parts. Hierarchies determine who sees what–can you go behind the curtain, can you see god being imagined, can you linger, how close do you get, can you photograph? Here, there is fierce competition, for the best vantage, for asserting authority. Sensibility, though, determines how you see–sometimes, one sees the whole of the world from a far off distance.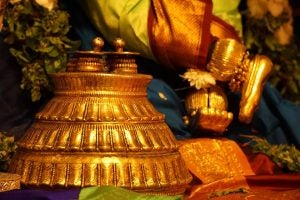 In primordial time you're white as milk
In end times, dark as rain clouds
Perhaps your beautiful body
Shines like gold, glitters like gems
How will I know if you won't show yourself to me
lord of Indalūr?
Tirumankai. Periya Tirumoli. IV.9.8