Adhyayanotsavam Day 2 (Dec 20):
The recitation of the 3rd and 4th Pattu of Periyalvar Tirumoli, and Periyalvar Carrumurai.
Naturally, the alankaras (tirukkolam) for the evening were Krishna, Krishna, Krishna. Alankara 1 during gosti, tiruvaradhanai, tirta viniyokam was Kalinga Krishna. Alankara 2, for Sertti Purappadu a bloodless killing of Bakasura–anticipating Andal: Pulinvay kindanai.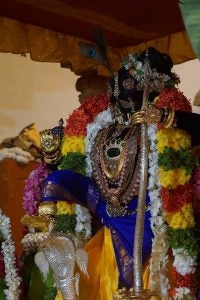 Vishnu here in Tirukkurungudi is called Alakiya Nambi, the beautiful prince and Sundara Paripurnan–entirely, completely, wholly, fully beautiful. Who can dispute this?