The Adhyayanotsavam inches to its close. We are on the 9th night of the Ira Pattu Utsavam (Dec 6), and on the 19th day of the festival. Everyone is a bit worse for wear–exhausted, ill, moving slightly more slowly than when we began. The days are endless–beginning at 3 AM and going virtually non-stop until 1030 at night. The work in a temple is never done, especially, when it's a temple as large as this one. Even during the down-times, when the devotees disperse home for a snack, various temple attendants, ritual specialists and functionaries are busy doing things–getting the god ready, the ritual implements polished and cleaned, the wicks oiled, the lamps lit. Over these almost twenty days, I've learned these rhythms–the choreography of moving through the temple. It's incredible how quickly the body learns, not only how to move, to bend, to stay still, but the when of it as well. The women move between the walls and the pillars of the mandapa as though a unit–I always think of them undulating through space, like waves in the sea–crashing the shores of visibility and invisibility over and over again. I've joined their group, although I am always just a little bit behind schedule, trying to get a photograph in, or jotting down some notes. My entire vantage of the Ira Pattu festival has been from the left side of the mandapam, which is where the women are situated. I wondered yesterday, what it would look like across the aisle, from the perspective of the men. What would I see and not see? I cannot even know the answer to these questions, because there are limits to what I can see, what I am allowed to see.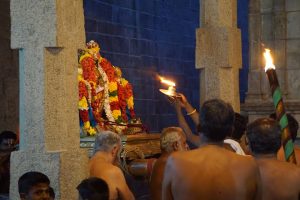 Keeping with this theme, I found it difficult to see the image yesterday. Everything seemed to obscure Nambi–people, flames, walls, corners. Eventually, I was able to get a beautiful, clean straight shot, but the evening was a struggle. All of this unseeing, which seems to apropos of a dominant theme in alvar poetry–seeing god and loving god through sight.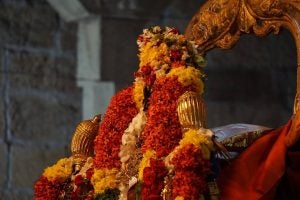 On a lighter note, I wondered if the goddesses and the women of Tirukkurungudi color coordinated their outfits yesterday. It was a sea of blue–the goddesses in teal, the women draped in blue of every possible shade, although Nambi was in white and showered in flowers of red, gold, orange, flame. I am so glad that I somehow unconsciously got the memo and showed up in blue salwar bottoms 
🙂. The colors–blue and gold– yesterday made me smile. They are California colors, and it was lovely to have a reminder of my other home, here in far away Tirunelveli.