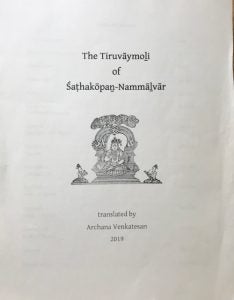 I began translating the Tiruvaymoli in 2007. It was supposed to be a joint project with Frank Clooney (Harvard), who has spent a lifetime on the text. We worked on some 60 verses together, but in the end, time, distance and my own slowness as a translator doomed our collaboration. Frank has been so patient, encouraging and incredibly generous to me throughout this process, and I know that I would never have conceived of such a monumental undertaking without him by my side to do it. Frank has his own complete translation, and I hope very much that someday he'll publish it, full of his rich insights and his deep, deep reading of the commentaries.
I have been changed on a molecular level doing this work. A great poem will do that to you, and the more you live with it, the more it changes you. It was difficult and frightening to accept this truth. Eventually, I did accept this reality, the realness of the poem, its work, its affect, and I learned to understand and feel it through ritual and spectacle, as something that throbbed and thrummed in the blood-veins of people.
Many, many moons ago, at the very beginning of this project, I applied for a National Endowment for the Arts grant, and was shocked to receive it (2012). They even did a little piece about me and this translation. At that time, I had ambitiously thought I would be done with this work in a year or so. Little did I know how distant the finish line really was.  Anyway, here is that little blurb, a reminder to myself of that far away self.
The book will be out in January 2020 from Penguin Classics. It's appropriate that it comes out then, during the month of Markali, which is given over to a sustained, profound meditation of this work.